Category Archives: Meet Recap
Article and pictures are from the Register-Guard newspaper.  Please click here for the full article.
Garrett Calhoun came to TrackTown USA from Boise expecting an easy race in the boys 1,500 meters Saturday at the Marist Track Classic.
That idea quickly dissipated after the bang from the starting gun.
Calhoun and Sheldon's Jackson Mestler finished neck-and-neck, with Mestler crossing the finish line 0.01 seconds ahead of Calhoun at Willamette High School.
"It was hard," Calhoun, who is committed to run for Oklahoma State, said of the last 100 meters. "I was dead and I was spent. I used all my energy passing him on the backstretch, trying to put some distance on him, but he went with me and eventually passed me."
Going into the race, Mestler said he was excited. Unlike his counterpart, he knew Calhoun had speed and he knew he'd be in for a close race, something that doesn't happen often for the reigning Class 6A state champion in the 3,000 and 1,500.
"I thought, 'Oh, good, I get to race someone good,'" said Mestler, who won in 3 minutes, 58.72 seconds. "I was really happy about that."
Mestler, who is committed to run next year at Oregon, was one of many Sheldon athletes to succeed Saturday. Sheldon won 22 of 38 events, leading to team victories on both the boys (179.5 points) and the girls sides (157 points) in the nine-school meet. Also competing in the meet was Calhoun's school, Timberline, which made the trip to Eugene from its home in Boise.
Sheldon and Willamette were the two lone Class 6A schools competing. Marist came in second on the boys side and the Marshfield girls were runner-ups to Sheldon.
For Sheldon coach Erin Regali, Saturday's meet was a good primer for larger invitationals later on. The crowded fields forced her and her coaching staff to make decisions on which athletes fit in what races. Her team's performance met her expectations.
"At a meet like this, you want to see which kids are ready to take the next step and really shine," Regali said. "They did a very nice job today."
Click here to read the rest of the article on the Register-Guard website
2015 State Meet results on athletic.net
From the Register-Guard newspaper: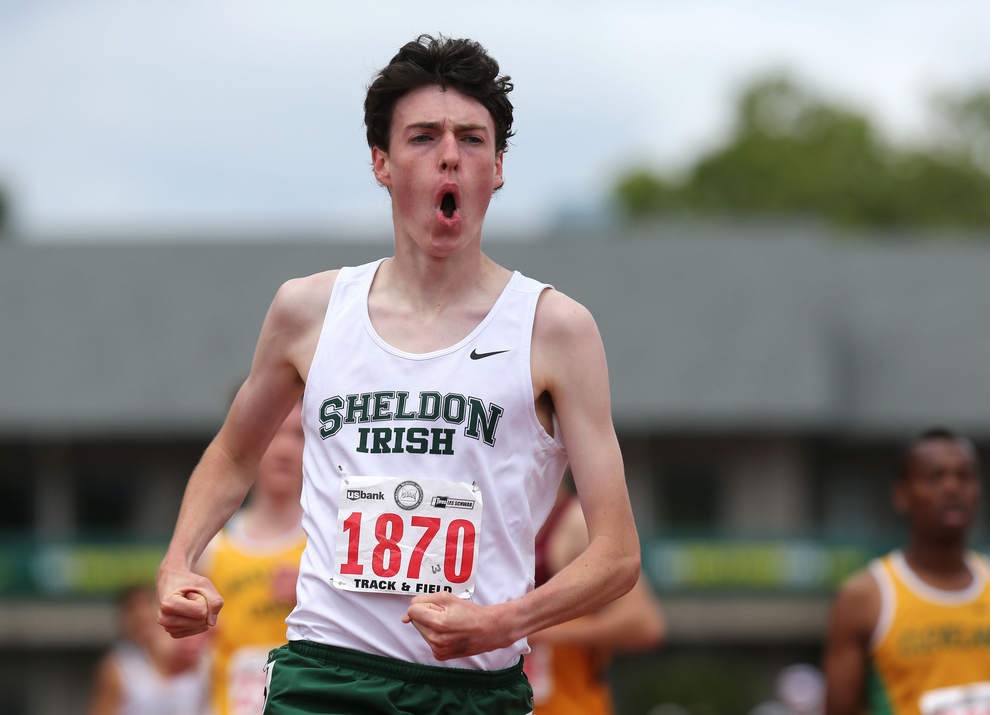 Jackson Mestler has figured out how to win over the Hayward Field crowd.
One day removed from winning the boys 3,000 meters in thrilling fashion, the Sheldon junior put together a devastating finishing kick to win the 1,500 state title Saturday during the Class 6A track and field state championships.
Mestler ran a brilliant race, going from last to the front of the pack early on and overtaking Cleveland's Roba Sultessa with 60 meters remaining for the victory.
He crossed the finish line in a personal-best 3 minutes, 55.67 seconds, just ahead of Sultessa in 3:55.85.
"He's got a kick that has maybe been the missing piece," Sheldon distance coach Brayce Forsha said. "He's always been pretty strong, but when it came down to it, things would get away from him. I think more than anything it's just confidence.
"He never thinks he's out of it, and I love that."
Mestler set a personal best in the event for the second straight week, thanks in part to the strong push by Sultessa, the two-time defending Class 5A state champion in the 800.
"I don't like being in crowds," Mestler said. "So I hung back until I saw that they were going. Then I made that big move on the backstretch and then I finally got into it."
South Eugene's Mason Wegener finished 11th in 4:03.96, followed by Reilly Bloomer in 4:03.97. Sheldon's Tristan Carpenter was 14th at 4:05.94.
Southwest Conference runner-up Grants Pass captured its first team championship since 1947 with 63½ points. Grant followed in second at 51 points, Sheldon (46) was third and Jesuit (43) finished fourth.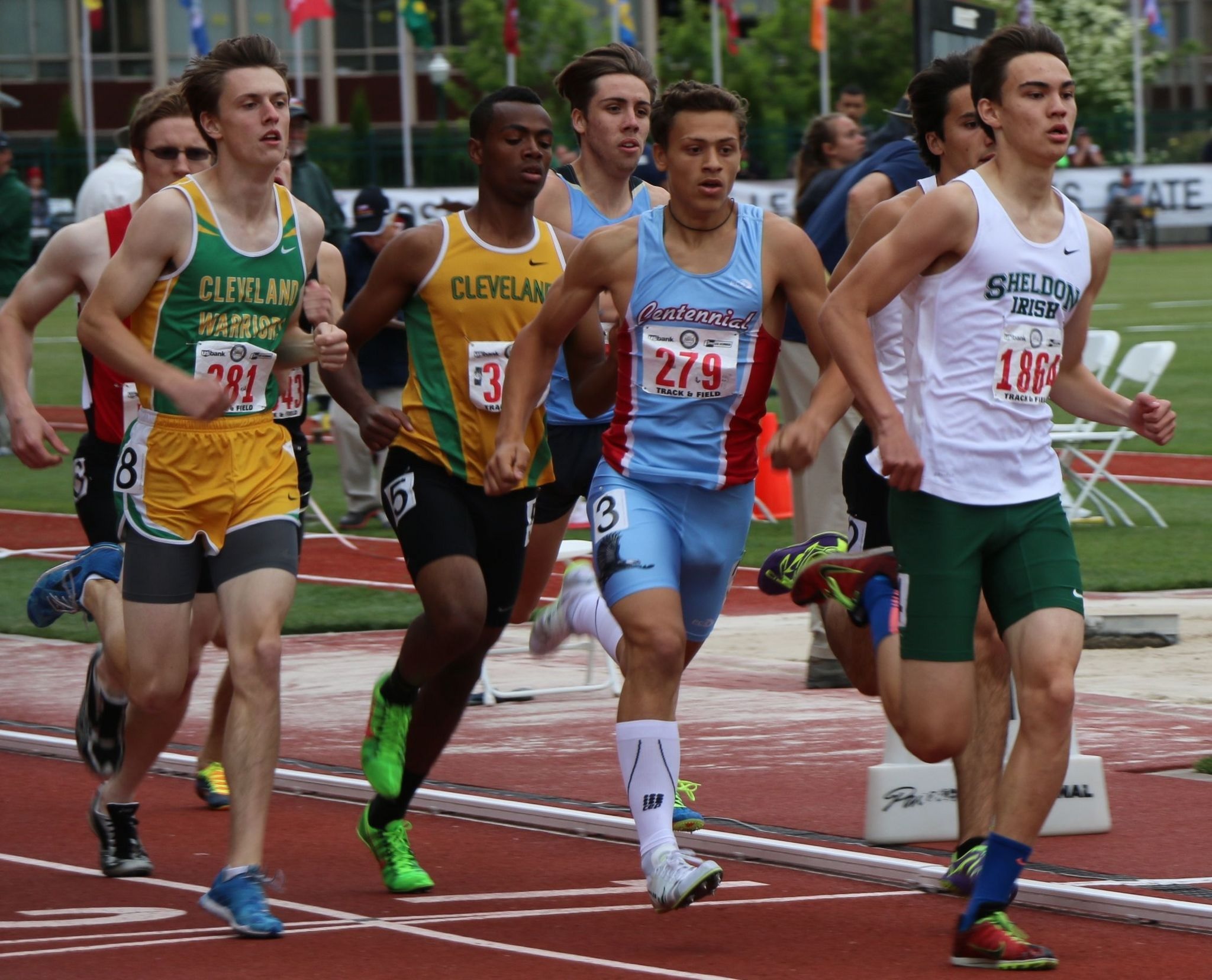 Above: Jenner Higgins finished 4th in the 800m final
More from the Register-Guard newspaper: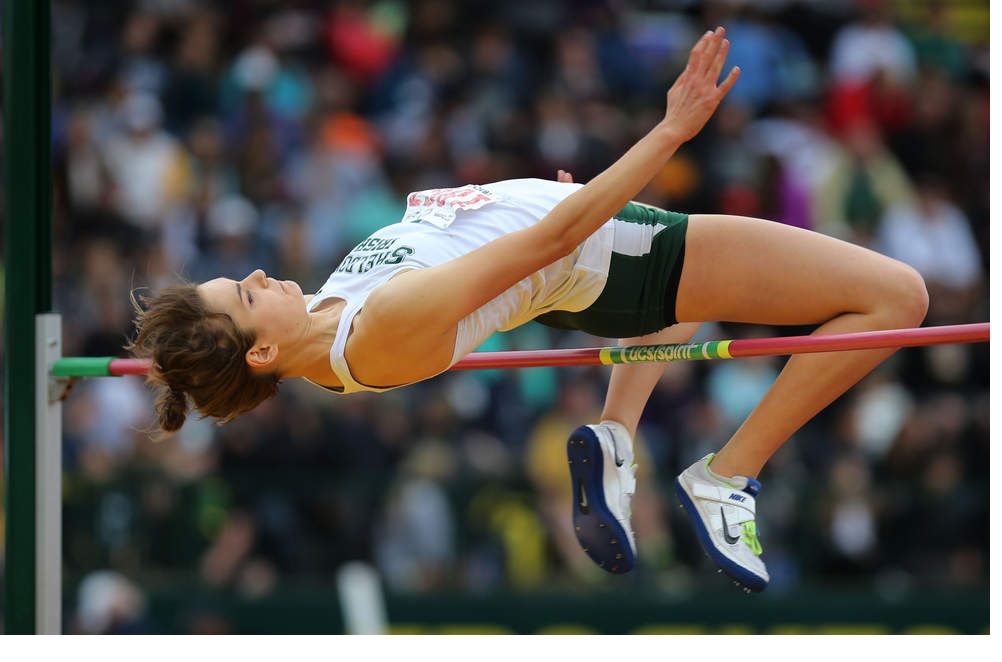 Sheldon senior Geneva Lehnert doesn't mind pressure. In fact, she kind of likes it.
With the Class 6A girls high jump competition whittled down to four competitors, Lehnert found herself in a four-way jump off for a state title Saturday on the final day of the track and field championships at Hayward Field.
Having failed on her three previous attempts at 5 feet, 5 inches, Lehnert knew she had no margin for error. With that, she sailed over the bar on her next attempt. Aubree Esterline of Grants Pass, Caroline Combs of Clackamas and Halley Folsom of North Medford all missed, handing the title to Lehnert.
"I think I do well under pressure, so really having to make that one helped me stay pretty focused," Lehnert said. "I needed to do a quicker last two steps, and I just needed one more try to get over.
"I hadn't jumped in a while prior to districts, so that was just more practice for me. Those three were good practice jumps for the fourth."
Of course, Lehnert said the support from her hometown crowd was also helpful.
"They say there's the 'Hayward Magic,' and it's a fun place to jump," she said. "There's a lot happening around you so it's hard to stay focused, but there's a lot of positive pressure around you too, so that makes it fun to be a part of."
Lehnert also finished second in the long jump with a mark of 17-9 1/2, coming in behind Sheldon teammate Elizabeth Prevedello, who won with a leap of 18-1 1/4. Prevedello added a seventh-place showing in the 100 meters (12.40 seconds), Taylor Carman took eighth in the 200 (26.01) and Amber Prevedello was sixth in the pole vault (11-6).
Those performances put Sheldon in fifth place with 40 points. Barlow won the team title with 57 points and Jesuit was second with 52.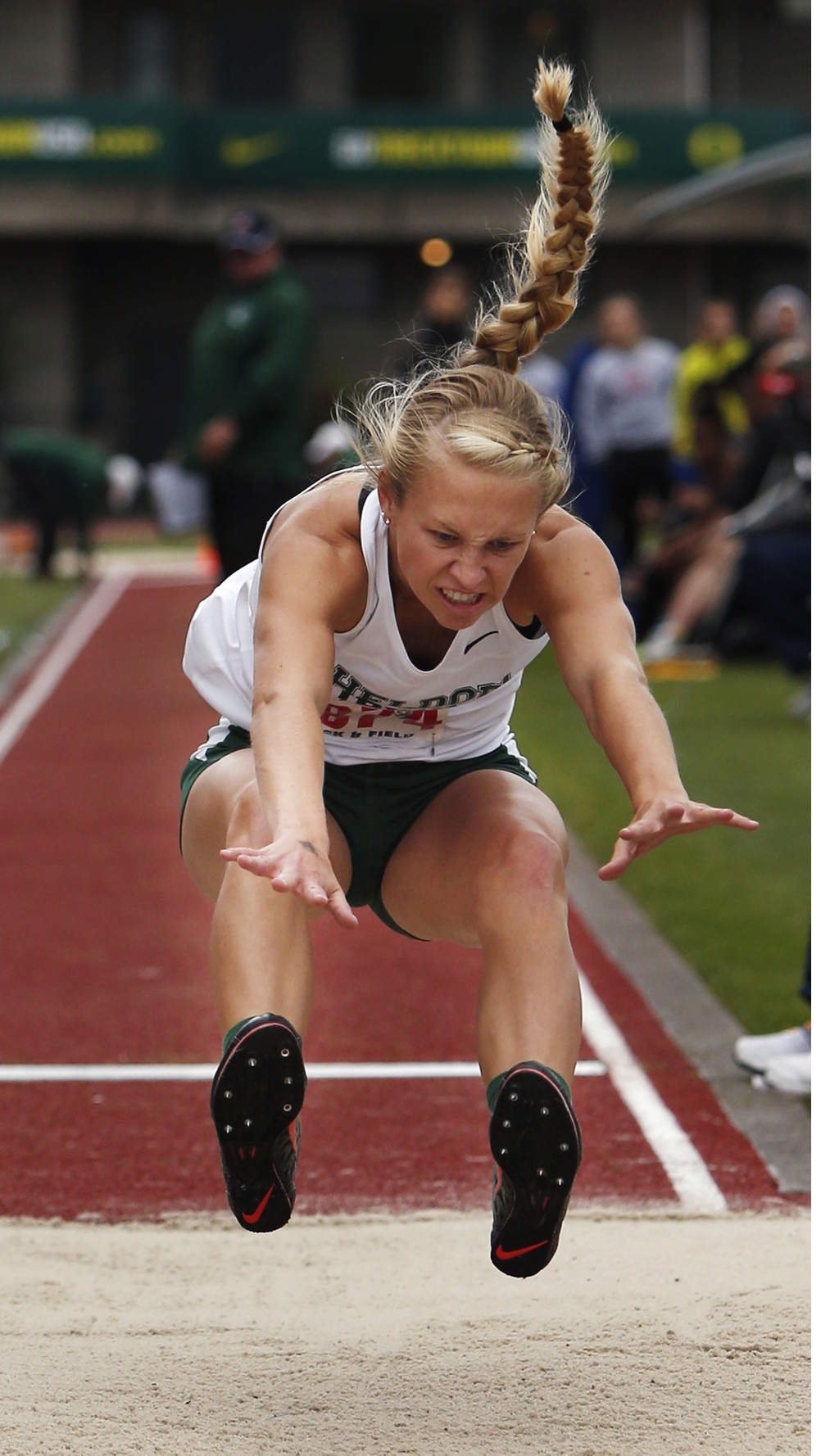 Her long blond braid whipping behind her, Sheldon senior Elizabeth Prevedello capped her high school career by leaping to a state championship in the girls long jump Friday at the Class 6A track and field championships.
Prevedello and teammate Geneva Lehnert went 1-2 in the final, giving the Irish a big bump on the first day of the big school championships at Hayward Field. Prevedello's younger sister, Amber, also provided six points for the Irish with a third-place finish in the pole vault.
"I was trying to come out and jump just for the fun of it," said Elizabeth Prevedello, who battled a sprained ankle for much of the spring and finished with a mark of 18 feet, 1 1/4 inches. "Just come out and enjoy it because I hadn't been able to jump early in the year. I can appreciate it more."
Sheldon leads the girls scoring with 24 points, and with athletes in five finals today, the Irish will be in the running for a team trophy. None of Sheldon's Friday competitors were concerned about this evening, though.
"We don't talk about points as a team," Amber Prevedello said, echoing what her older sister said. "It's more go out and do your best. You got here so just be proud of that and do what you can do."
Amber Prevedello improved on her own state finish from her freshman year, when she came in fourth. She cleared 11-6 to tie for second but dropped to third because of more misses. Tuesday, she tied for 26th at the Class 6A golf championships, helping the Irish to a third-place finish.
"You switch one off and switch the other on, and boom," she said. "It worked out well."
Today, Lehnert will go for her own state title. She has the top clearance in the state in the high jump and could give the Irish a boost. They also have Elizabeth Prevedello in the 100-meter final, Taylor Carman in the 200 final, a 4×100-meter relay team and Lauren Clay in the triple jump.